Zuppa Di Pesce
---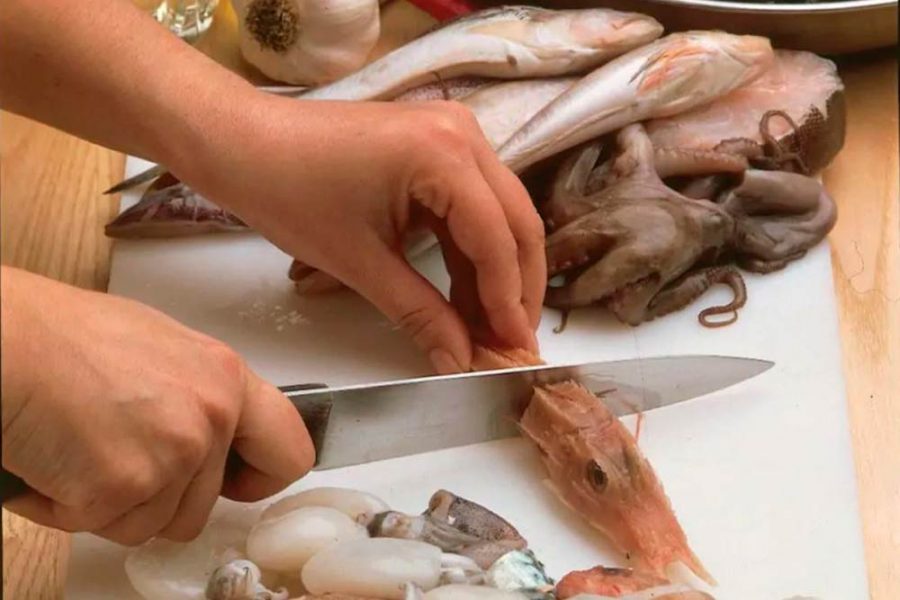 How to make Mediterranean Fish Soup – Zuppa Di Pesce
INGREDIENTS
6 Shrimp
3 Moorhens
1 Monkfish
700 gr Octopus
400 gr Sepia
250 gr Calamari
100 gr Paranza
300 gr Palombo
Extra virgin olive oil (EVO)
3 garlic clove
2 peeled tomatoes
Parsley
Optional Chili pepper
Sliced bread for serving
Yield: 4 Servings
INSTRUCTIONS
1. When you want to prepare the classic fish soup, first clean all the various types of fish you will use in the recipe. Then start with the preparation of the fish broth.
Put in a casserole a round of extra virgin olive oil with parsley stems and a clove of garlic. Add the peeled tomatoes in the casserole and allow to take heat.
2. Start adding the fish needed for the broth into the casserole. First put the shrimp carapaci, the paranza and the monkfish in the casserole.
3. Add the sea bream to the other fish and pour enough water into the casserole so that it is almost completely covered, cover and start cooking the broth.
4. At this point proceed with the actual preparation of the classic fish soup. Prepare a mixture of garlic and parsley and fry it with a little oil in a large saucepan.
5. Start adding the fish in the casserole starting from the more tenacious ones, that is the octopus and the cuttlefish. Cut the octopus into regular pieces so as to have a homogeneous cooking, then add it to the casserole.
Also cut the cuttlefish into large pieces, after having peeled it and eliminated the hardest parts and also joined in the casserole together with the octopus.
6. Take the squid, leave the tentacles whole and cut the bags into small pieces and add it to the soup.
7. Finally cut the dogfish into pieces. Separate the central bone from the pulp and set aside the pulp. Add the parts with the bone to the broth to give it more flavor.
8. Add the filtered broth to the soup, cover and continue cooking the soup for at least another 30 minutes. For optimal cooking consider about 1 hour of total cooking, since you put the first fish in the casserole.
Meanwhile, place toast slices of bread, which you will need to serve the soup.
9. After the indicated time, check that the octopus has become nice and soft, add the dogfish pulp to the soup and continue cooking for another 3-4 minutes.
If the liquid in the soup is not enough, add a little water.
10. Prepare a chopped parsley that will serve in this case not only to give color to the finished dish, but above all freshness and set it aside.
11. Finally add to the fish soup the tails of the cleaned and gutted prawns, of the shells used for the broth and continue cooking for another 2 minutes.
After this time, the fish soup is ready to be served.
12. If you like, rub a clove of garlic on the slices of bread. Put the bread slices inside the coccottine and cover with the soup and the broth
13. Aromatize the soup with chopped fresh parsley, prepared previously to give freshness to the dish, add chilli pepper if you like. Finally season with a drizzle of extra virgin olive oil and serve raw.