Sautè di cozze e vongole
---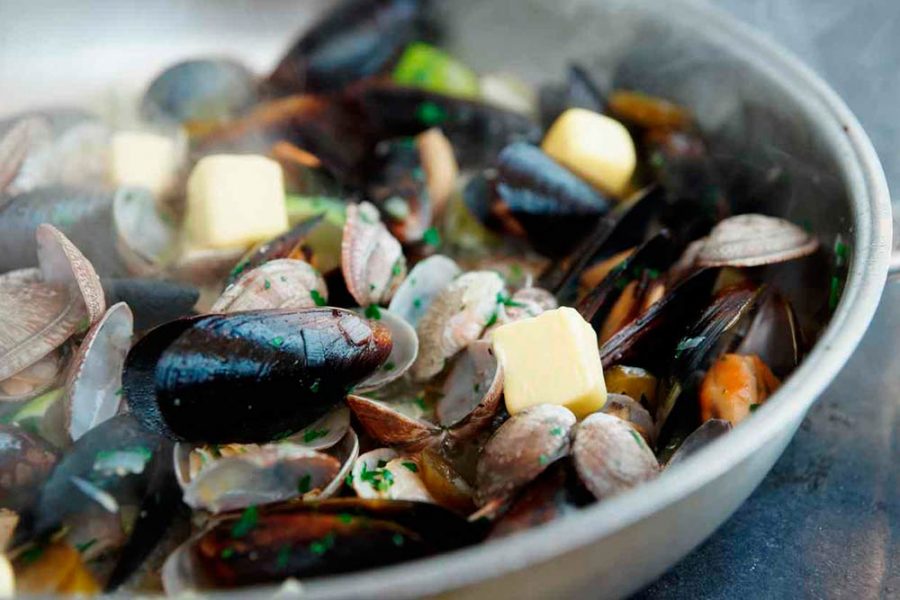 Sautè di cozze e vongole is an appetizer or main course rich in flavor to be prepared quickly and with a few simple ingredients
INGREDIENTS
Mussels 1 kg
Clams 1 kg
Garlic 3 cloves
½ cup extra virgin olive oil
Black pepper to taste
Cherry tomatoes 100 g
Parsley to chop 2 tbsp
Yield: 4 Servings
INSTRUCTIONS
1. To prepare sauté of mussels and clams, first start by cleaning the molluscs. To clean the mussels put the seafood in a large bowl, then rinse them well under running fresh water
2. With an energetic movement, manually remove the beard, or byssus, which comes out of the valves
3. (to facilitate the operation it is possible to hold the byssus with a cloth). Always under water, vigorously rub the mussels, using a steel pad (or a stiff brush), to remove any impurities
4. To clean the clams wash them under running water
5.check them by beating them one by one on a cutting board, that there is no sand inside them
6. and chop the sprig of parsley
7. After carefully cleaning the molluscs, open them by placing the mussels in a pot and then the clams.
8. Cover with a lid and cook over high heat to open the valves
9. As soon as all the molluscs have opened, separate the mussels and clams from the cooking liquid with the help of a dense sieve
10. Keep the cooking liquid aside. Pour the oil in a pan and squeeze three cloves of garlic
11.Fry for a few moments and add the tomatoes cut previously, brown them 1-2 minutes on a low flame and then pour the cooking liquid from the molluscs you have set aside. Season to taste to your liking with ground pepper
12.Lastly, add the mussels and clams and let them cook briefly with the sauce. Finally add the chopped parsley
13. Turn off the heat and then serve the sauté of hot mussels and clams, possibly accompanied by slices of toasted bread.